KWPN Colt
Sire: Imothep (Indoctro)
Dam: Jesire
Dam Sire: Colonist
$15,000
Located in Indiana
Timberlake is going to be an exceptional jumper prospect for the future. His dam has produced several youngsters that have successfully competed at breed shows with numerous wins and year-end awards.
In 2007 his sire, Imothep, completed his 30-day trial in Zweibruecken, Germany with an overall score of 8.1, and was victorious in his sporting debut in jumping tests Class A and L. In 2008 he won young horse M classes with scores up to 8 and 9. Because of his success, he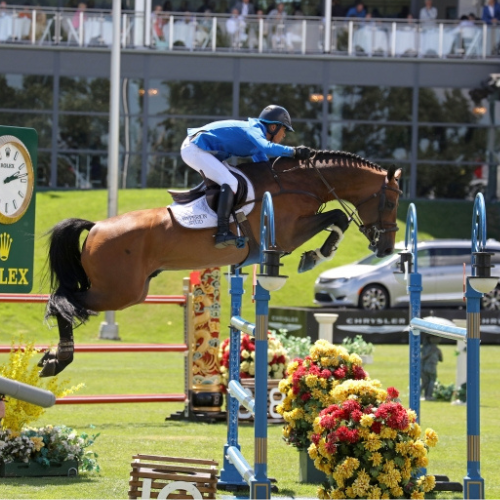 then qualified for the FEI World Breeding Championships for young horses in Lanaken, Belgium in 2009.
Imothep is a star in the show jumping world and breeding industry. In 2007 he was approved by the OL, RPS, and ZfdP studbooks in Germany. In 2011, Imothep was fully approved and licensed by the BWP and awarded the "Elite" status, becoming the only Indoctro son in Europe and North America who has been given this acknowledgment. In 2014 Imothep was awarded Ambassador status with the BWP, was fully licensed with the KWPN and was approved by AHHA. As a breeding stallion, Imothep has produced a champion colt in Germany in 2009, and two others in the US in 2011 & 2012 and continues to do so to this day. Imothep's progeny are beautiful, well-tempered, and possess big movement through the hind end. He is a stallion who offers his best qualities to each and every foal.
As a sport horse, Imothep has acquired several results at the National and International Grand Prix level throughout his career. In 2014 his greatest accomplishments included  3 Nation's Cup events for Team Ireland at Aachen (4/0), Hickstead (0/0) and Dublin (4/0). That same year, under Irishman Darragh Kenny, the pair finished 12th of 153 horse/rider combinations at the 2014 World Equestrian Games in Normandy, France.
In 2015, Taizo Sugitani of Japan joined forces with Hyperion Stud taking over the reins of Imothep. Together they competed for Team Japan at the 2016 Olympic Games.